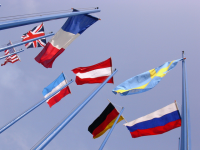 Should M.P.'s vote for a new flag?
My reason for the question is that said voting could, essentially, create a conflict of interest when the 'winning' design is that an M.P. had voted or not voted for as all Members need to honour the flag without fear nor favour and even be it actual or perceived voting must create some sense of discrimination in one direction or other. This is somewhat of an esoteric approach nonetheless a possibly valid one at this level of governance and legal priority which I submit is quite different to a normal vote for any piece of legislation.
Another matter is the technicality of whether Members, for the purposes of a constitutional arrangement vested in the people, are actually within that subset of society when being a house of representatives of those people. The counter example is that when a piece of legislation is being considered by the House that all the people should also have a vote. That of course is not the case and nor would it should Parliament have decided to vote on a new flag completely itself. In that situation a Member is then not a member of the 'public' or that member would be excluded from the vote. This returns the argument back to the proposition that Members of Parliament are not members of the public in a constitutional frame-work and therefore should not vote in the current referendum.